My Loufest 2017: Rollerblades, Glitter, & Free Love
St. Louis, like any major metropolitan area, has dealt with high crime rates and social unrest. We've watched our city burn to ground, and relatively recently, in the light of a verdict that became symbolic of a movement. But St. Louis knew about crime far before the shooting of Michael Brown Jr in August 2014.
Yes, we are familiar with the concepts of gang violence, domestic abuse, minority exploitation, and civil disobedience. We have images burned into our retinas of burning police cars, debilitated businesses, and a war zone complete with armored vehicles, smoke bombs and flash grenades. Angry protesters flooding the city with tear gas there to greet them.
Whether we'd like to admit it or not: St. Louis has a bad kid reputation despite it's otherwise wholesome, Midwest vibe. Ask any resident about crime in the city and you're likely to get one of two responses: 1.) resigned concern or 2.) hysterical laughter.
However, this weekend, I somehow seemed to forget about our rough and tumble street cred. 60,000 people from across the city and beyond gathered to celebrate the 8th Annual Loufest Music Festival at The Muny grounds in Forest Park. For 48 hours, the negative news cycle melted away and music, friendship and generosity reigned.
As a Loufest newbie, I was blown away by the sheer scale of the festival itself. Although an Anheuser Busch sponsorship was likely the culprit responsible for a lack of local craft breweries (something I admittedly missed), it undoubtedly afforded some top notch resources. Three stages equipped with state-of-the-art video and sound equipment amplified a mixed-bag of acts from across the country.
Jord Watches x Fauxgerty Loufest Kick-Off Party:
But, I'm getting ahead of myself. I officially kicked off my Loufest weekend on Friday evening with Jord Watches and Fauxgerty at their VIP Kick-Off Party held at Fauxgerty's adorable boutique located in the downtown Central West End neighborhood.
Honored to be invited along with some of the top bloggers in the city, I arrived to a warm reception: delicious beer provided by 4 Hands Brewing Company, an impressive spread of light eats, and a VIP Swag Bag containing gifts from local businesses that support St. Louis' authentic spirit. It was a fantastic evening I won't soon forget.
As I drove home from the party, I couldn't help but feel proud of local businesses like Jord Watches, Fauxgerty, and so many others that are thriving right here in St. Louis. Supporting local commerce goes beyond statuses on social media: it involves real action.
Every time you spend money, you're casting a vote for the kind of world you want. Support the makers. The artists, craftsmen, photographers, writers, performers, designers, the self-employed, the go-getters, and the do-it-yourself-ers. Vote for opportunity and supporting families. Support local commerce, and consider spending your hard earned dollars on one of these businesses that call St. Louis home:
Take a look at my favorite souvenirs from our exclusive VIP Swag Bag!
With General Admission ticket prices nearing $100 for a two-day pass, I was thankful to avoid the box office by connecting with festival-styling company, Bohofaux, who provided me with VIP admission for the duration of the two-day event in exchange for promoting and assisting with the operation of their booth.
Bohofaux is a pop-up company offering bohemian braids and chunky glitter without the mess or hassle. The idea is simple, yet genius: a full service glitter and braid bar that makes all of our festival dreams come true.
They set-up shop at major music festivals like Coachella and Bonaroo, as well as more regional events like One Whirl Yoga Fest, Cannibus Cup, Free2Breathe Yoga Challenge, and our very own, Loufest Music Festival.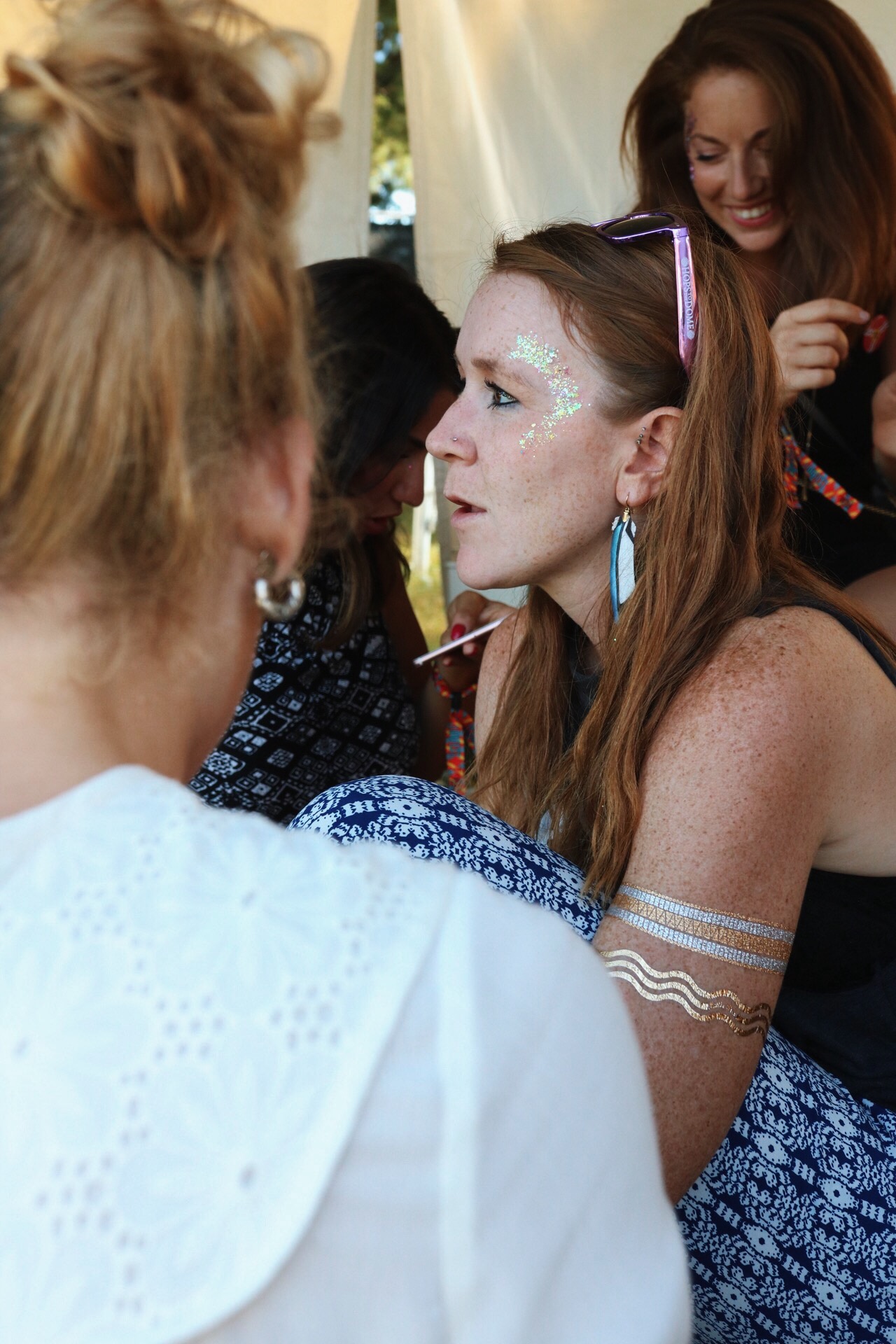 Located in both the General Admission and VIP areas, my girls and I at Bohofaux braided and glittered all ages and genders during the afternoon and then were able to enjoy the festival in all it's glory in the evenings.
Although Loufest has been held inside of Forest Park's Central Fields for the past 7 years, on-going renovations shifted the festival to The Muny grounds for the 2017 celebration. As a newcomer to the festival, I didn't take issue with the primarily concrete event space, but I imagine grass fields would create a slightly different atmosphere. More Woodstock, less Six Flags, perhaps.
PRO-TIP: While I did hear a few negative reviews of the new location, others embraced it! If the festival remains at The Muny grounds for the 2018 festival, consider bringing along a pair of roller blades to get around. I was impressed when I saw a few festival-goers doing this on Day Two!
Snoop Dog drew the biggest audience on Saturday night with the bodies stacked so deep it was difficult to maneuver across the crowd. Perhaps the close proximity of our neighbors increased our bond, but by the end of the concert many around us had passed joints, shared stories, and promised couches. Something about Snoop's hits, reaching all the way back to 1992, took us back in time. That night we were 16, 21, 25, 28.
The headliner for Day Two was another favorite of mine, Weezer. I snuck into my Aunt Kat's room at 12 years old to steal her Weezer CD because I worshipped the ground she walked on. Luckily she had great taste in music, and I still thank her to this day for only being mildly annoyed at me.
Although the crowd was smaller, the fans seemed truer with verses ringing in unison over the crowd at many points. They played with a kind of Beach Boys happiness. Youthful. Honest. Ornery. It was a great show!
All in all, the weekend was a whirlwind of glitter, music, and fun. It was unbelievable to me that such a place of free love and open happiness should exist in a place I call home.
We get so bent out of shape about who is on which side. About activism and control. About titles and statuses and tweets. But this past weekend, at least in a microcosm of St. Louis, Missouri: none of it mattered. Loufest Music Festival was a blast, ya'll.
I already can't wait until next year!
xoxo,