The Ultimate Guide to Shakespeare Festival Saint Louis 2017
Shakespeare Festival Saint Louis, or more commonly called, "Shakespeare in The Park," opened Friday evening, inviting theatre-lovers across the metro-area to enjoy "The Winter's Tale" underneath the stars. Always free and open to the public, the festival celebrates its 17th season this year, popping up inside of Forest Park for a three-week marathon run of one of Shakespeare's greatest plays. "The Winter's Tale" will now run nightly, excluding Tuesdays, at 8pm in Forest Park through Sunday, June 25th.
I caught the second official performance on Saturday evening, marking my 7th consecutive season as an audience member in Shakespeare Glen. The day had been a scorcher, but as the sun sank low in the sky, a cool breeze drifted in that settled the soul. We reclined on our blankets, bodies and bellies sated by food and wine. My dog, Della, sleeping lazily next to me. And on cue, as if the house manager could sense our complete contentment and boozy glow, the stage sprung to life.
Thinking about checking out Shakespeare in The Park for the fist time this summer? Or maybe you want the inside scoop on this year's show? Read on for my Ultimate Guide to Shakespeare Festival Saint Louis 2017, including pro-tips for preparedness that'll impress all of your friends!
Planning your Trip
Shakespeare Festival Saint Louis has a "bring your own" policy when it comes to food, beverages, and seating. Patrons wishing to watch from blankets are able to secure the closest seats, while lawn chairs and the like are directed to a separate section immediately behind them.
That being said, they do provide concessions and ticketed premium seating as well if you're not interested a DIY theatre experience. Reserved seating ranges from $10-40/ticket and the concession stand offers some admittedly tasty treats, although they don't come cheap.
PRO-TIP: If you're opting for a DIY experience, be sure to bring plenty of water. This Midwest heat is no joke, especially when you're drinking wine. Do yourself a favor and bring more than you think you'll need. A water from the concession stand will cost you a whopping $3.75!
PRO-TIP: The concession stand offers a delicious, possibly heart-stopping, funnel cake a'la mode that you should definitely check out if you've got a sweet tooth like yours truly. Worth every bit of its $6.50 price tag, you'll want to share this decadent treat with a friend. The amount of vanilla ice cream they give you is inspirational!
My advice? I've sat in both the blanket and lawn chair sections, and I always encourage first-timers to sit on blankets! Shakespeare's plays are not short, and the language can be difficult to understand at times, even for somebody who has studied Shakespearean plays. The closer you are to the action, the more vibrant (and easier to understand) the experience becomes. It allows you to see body language and facial expressions that can get lost in translation when watching from several feet away. Sit up close to become fully immersed in the world of the play!
PRO-TIP: Arrive early to nab a good seat! Seating is always first come, first serve in Shakespeare Glen so arrive prior to 6 pm to get the best spot. A few things to keep in mind, however: 1. Although the Green Show starts at 6:30 pm, folks start arriving earlier and earlier as month wears on. and 2. Weekend performances see a spike in attendance. Take these two factors into consideration when planning your trip! For example, if you're seeing one of the last weekend performances, plan on arriving close to 4 pm for a front row seat.
PRO-TIP: Worried about getting a back ache? Bring a pillow or stadium seats like these for the most comfortable blanket-viewing experience! By the end of the play, most of the blanket section will be laying down. Feel free to get comfortable!
How elaborate you'd like your set-up to be is completely up to you. I've seen camping tents, small tables, umbrellas, and hammocks. Board games, books, crosswords, and cards. Carryout boxes of all shape and sizes from restaurants across the metro-area. Buffet spreads with fruit platters, veggie trays, chips and dip, pasta salad, baked beans, pulled pork, fried chicken, and desserts in every variety.
PRO-TIP: Planning a trip, but worried about rain? Bring a tarp to lay underneath your blanket, effectively blocking any moisture from your precious bottom. Don't forget your umbrella in case the skies open while you're there!
The Green Show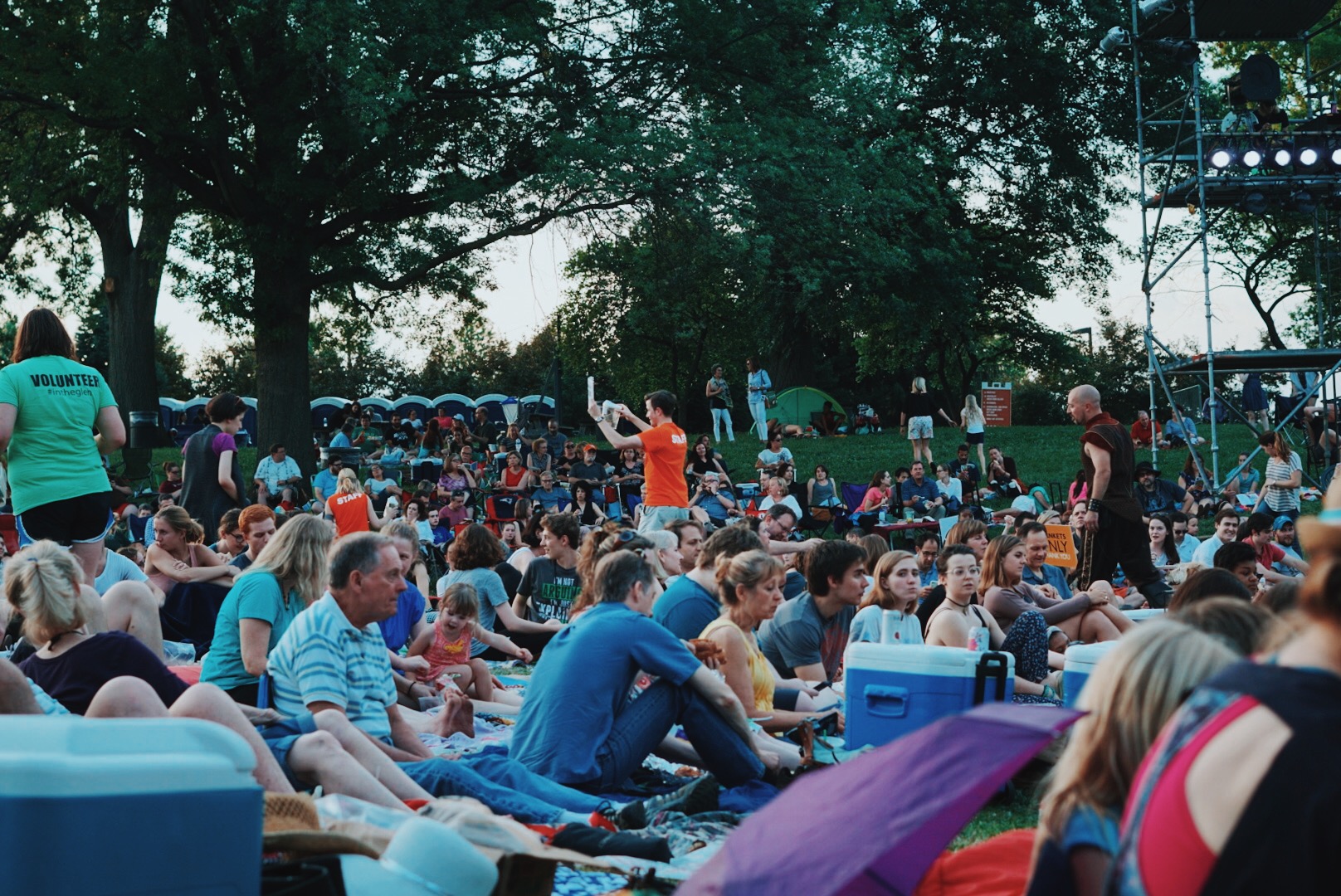 The Green Show kicks off at 6:30 pm, creating the perfect environment for 'pre-show picnickers to enjoy light entertainment while breaking bread with family and friends.' Featuring a wide array of local talents, performances can be found throughout the festival grounds prior to showtime.
The festival also offers a nightly "Bard's Buzz," including a summary and character outline of the play, family activity area with a variety of The Winter's Tale-themed crafts, and backstage tour providing a behind-the-scenes look at all the action. Take a walk around the festival grounds before the show and check out the Gift Shop and Green Show Stage!
PRO-TIP: Shakespeare in the Park veterans will be happy to learn that Juggling Jeff and his fire-breathing companion will be entertaining the crowd again this year on Saturday and Sunday evening performances only. Their slap-stick humor and witty word play has me rolling every year!
Click here to see the full schedule of what you can expect on your trip to Shakespeare Glen!
PRO-TIP #7: Still confused about where Shakespeare Glen is located inside Forest Park? For good reason! You won't find permanent signage pointing you to the right place once you get into the park. Instead, scan for shorter temporary signs pointing patrons in the right direction. Shakespeare Glen is located just off Fine Arts Drive, to the right of the Saint Louis Art Museum if you're looking down at Art Hill. Click here for a map!
PRO-TIP: Parking is scarce, especially on weekends. Shakespeare Festival Saint Louis will also overlap with The Muny's season this year (6/12 - 6/25), creating one of the highest demands for parking we've seen yet. Plan on walking up to a mile from your vehicle to the festival grounds if you're intent on scoring a free parking spot!
FUN FACT: Did you know The Winter's Tale was one of the last plays Shakespeare ever wrote? Most critics believe Shakespeare wrote it between 1610-1611!
The show opens with modern club music, as our main protagonist (Charles Pasternak as Leontes) steps to center stage in a fuzzy bathrobe and slippers. He bobs along to the beat, newspaper in hand, earbuds noticeably jammed in his ears. It's an energetic wake-up, worthy of a comedy, and it captures your attention instantly. At first it's even unclear that the play is beginning. You think, perhaps this is just an actor warming up before the show. But, soon Pasternak is joined by his wife (Cherie Corinne Rice) and daughter (Cassia Thompson), wearing heavy coats and hats, joyfully dancing along. They are the picture of a happy family.
The daughter interrupts, playfully pulling the earbuds from his ears. She begs for a story, and her father concedes, promising a sad tale full of 'sprites and goblins,' for a sad tale is best for winter. Ironically, the temperature in Shakespeare Glen at this moment is anything but.
And with that, the scene transforms into the story he presumes to tell. The actors strip their winter coats, exposing clothing from another time, of renaissance ladies and loyal lords. The supporting cast floods the stage, singing in beautiful harmonies to stringed instruments as they set the stage. The play has begun.
PRO-TIP: Wear comfortable sandals so you can slip off your shoes and get comfortable while you watch the show. Stick your toes in the grass and leave your worries behind . Some things are just best enjoyed without shoes.
For the next two and a half hours we follow Leontes (Pasternak), King of Sicilia, as he groundlessly accuses his pregnant wife, Hermoine (Rice) of having an affair with his childhood best friend, Polixenes (Chauncy Thomas). Our Winter Tale contains demons far scarier than sprites and goblins, for these demons are of the mind. A man tormented and a family ripped apart. I'll spare you the full report, as the folks at Shakespeare Festival Saint Louis have so graciously done it for me. Click here for the full plot synopsis!
PRO-TIP #8: Unfamiliar with the show? There is a plot synopsis provided in the playbill to help acquaint you with the story before the play starts! Bonus points for reading it aloud for your entire group to hear. It'll increase anticipation and guarantee you won't get too lost once the play starts!
Typically alternating between comedy and tragedy each season, this year the selection committee opted, instead, for a plot that falls somewhere in the middle. While "The Winter's Tale" is typically grouped with Shakespeare's comedies, it truthfully feels more at home as a psychological drama and romance. The title implies a tall tale of fantasy, yet the tone of the play is darkly realistic. The comedic bits are more like side dishes to the overall entree.
PRO-TIP: A friendly reminder that photographing the actors and/or the use of recording devices during the show is strictly forbidden by law. There are a handful of reasons for this, including several union rules concerning the safety of actors, as well as the intellectual property issues in regard to the shows' designers and directors. If you bring along your camera, stick to photographing before and after the curtain, and of course, credit any set photographs appropriately.
Support the Festival
At two occasions in the evening--once before the show, once after-- volunteers will disperse into the crowd, collecting donations in plastic tupperware containers. Shakespeare Festival Saint Louis relies on contributions from individuals, businesses, and institutions to support their award-winning work. In addition to offering a month-long Shakespearean production free of cost to the public, the company seeks to 'expand participation in the arts throughout the Saint Louis region' through extensive arts-education programs in schools and community-based story-telling experiments in the streets.
Without the community's support, the festival would cease to exist. Consider dropping in a few dollars to support Shakespeare Festival Saint Louis year-round.
PRO-TIP: Planning on donating a few dollars? Don't forget to stop by the ATM before the show!
A final note...
I loved the evening, start to finish, as I always do, There's a reason I'm a 7th season veteran, right? The actors skillfully brought the world of the play alive before our eyes, and it was a joy to follow a story I wasn't already familiar with before I arrived. I was incredibly impressed by the music in the play. The cast sings in a handful of scenes throughout the show in beautifully executed harmonies.
This is the perfect summer to discover a new tradition. If you haven't experienced Shakespeare in the Park yet, I highly recommend making the jump this year. Shakespeare's work is timeless, and an evening spent enjoying it under the stars was truly magical. If you're a veteran audience member like yours truly, this year does not disappoint!
Shakespeare Festival Saint Louis is a must-see event for June 2017!